Rug Cleaning (Oriental rug cleaning process, silk rug care)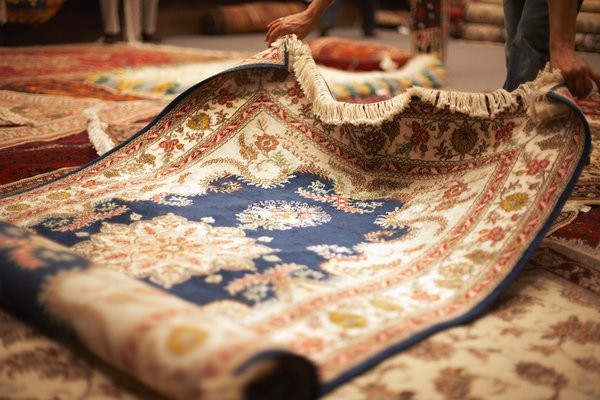 Rug cleaning is not the business for everyone; therefore, you should not settle for less, if there is any issue of your Oriental rug cleaning or silk rug care. Alternatively, You can think about to exercise the buzzword term DIY (do-it-yourself) but if you are a novice in oriental rug cleaning process or silk rug care so beware, that option could backfire. Your question will be why, obviously? So, dear Client, the issue is that rug cleaning, especially the Oriental rug cleaning process and silk rug care require effective approach with gentle care. We are the professional who are experienced, how to handle your rug cleaning process by keep protecting and restoring the delicate fibers that are the core of your rugs and their beauty.
However, it is also the fact that for saving bucks, lots of people applying different Oriental rug cleaning process and silk rug care techniques to clean their rugs but in lots of cases, final results were heartbreaking. The reason could be vary but generally, during the process of DIY process, a person can scrub the delicate fibers harshly, resulting worst consequence. Or, failing to apply the right solution to the right rugs or its fiber, also, consequence a destruction of your costly assets.
Please note that your rugs, especially the oriental or silk ones are too precious to applying such type of unprofessional techniques. Hence, if you have the artistic vision, we suggest you to contact us for a free consultation before paying any penny to us. We are here, near you to provide outstanding Rug cleaning services because we have hands-on experiences to handle the variety of Oriental rug cleaning process and know exactly that how to do silk rug care. Please note that Rug cleaning is our business and we are capable of handling all your rugs cleaning worries.
As an experienced professional, we know that rugs' fiber is sensitive and different areas of rugs require different but diligent care and we know very well, how to handle all that process including Oriental rug cleaning process as well as silk rug care. Don't wait further, we are just a call away for your help.

Call us today at 888-429-9027 or Email us at sale@CarpetCleaningStar.com Get 15% off on our cleaning services