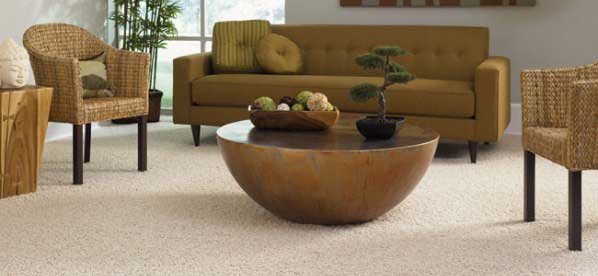 Green Cleaning With all of the flooring options available today, carpet is still the most popular in homes. It is comfortable under the feet, offers sound and temperature insulation, and is available in a wide variety of colors, patterns, and textures to enhance any desired décor. The biggest drawback to carpeting is that even the most stain-resistant fiber carpet can be more difficult to clean with its deep pile that can also harbor dust and other allergens. Regular steam cleaning keeps it fresh, healthy, and longer lasting.
Though many people do their own carpet cleaning with home steam cleaners and chemical carpet cleaning products, only the professionals with their superior and more powerful equipment can really deep clean carpet to remove embedded dirt and remove tough stains. With advanced water based cleaning systems, it can be done without chemicals and harsh shampoos that leave sticky residues behind. These residues act like a magnet to attract dirt and grime making more frequent cleaning necessary. Additionally, drying time is reduced over the old carpet cleaning methods since the primary carpet backing does not need to be flooded to offer superior cleaning.
To get the most life from your carpet and to keep it looking good for longer, vacuum it at least weekly or more often if you have shedding pets or other conditions that generate dust and dirt that can be ground in and damage fibers. Get it professionally cleaned every six to twelve months by a professional carpet cleaning service that uses a chemical and residue-free system.
Call us today at 888-429-9027 or Email us at sale@CarpetCleaningStar.com Get 15% off on our cleaning services