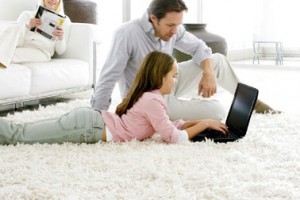 It is very difficult to choose the right carpet cleaning company. There are many companies that will offer you cheap rate and then will surprise you on the day they show up. We tell you everything upfront, our goal is to give great service with no surprises. Things to look at when you are deciding on carpet cleaning company.
Carpet cleaning companies provide many services. You should ask the sale rep to give you an onsite quote not just a price on the phone. Figure out the Square Footage of the area that you need to clean. Price often will be based on the size of the carpet that the technician will need to clean. Verify what kind of fabric the carpet is. That can affect the price and the time that it will tack to clean it. Some fabric will cost more than other. Antic carpet, Persian rug, Wool rug and Oriental rug require special service that will cost you more. If you need the service for your home or your office, make sure the carpet cleaning company will send the right technician (commercial or residential technician). Most people will be searching for residential carpet cleaners, but there are quite a few varieties of these as well. Some company will offer only partial service that include washing and shampoo the carpet and some company will do dry cleaning treatment. Not all the companies will offer repair services. There are some companies that will clean rugs and upholstery as well. Make sure you get the service you need.
Budget your cleaning need right!!
After the technician will come to your home or office he will give you a written quote and you will have the option to choose the right carpet cleaning company for you. Some carpet companies will give you high price for full services don't get afraid you can always work with them on the price. All carpet cleaners want to get repeat client.
Choosing the right carpet and upholstery cleaning company will make your life happier and cleaner. Most of the client will need to clean their carpets once a year, that mean you need a good carpet company to lay on.